Songs to play on drums: Roxanne by the Police
Video drum lessons online: Stewart Copeland Roxanne
This drum lesson dedicated to wart Copeland, contains the complete transcription of the famous Sting's song Roxanne.
In the late '70's, Police's drummer Stewart Copeland has introduced into rock drumming new accents and sounds derived from Reggae and from African and Middle-Eastern rhythms, that was part of his earlier musical heritage. Like many others Police famous songs, Roxanne - from their 1978's first album "Outlandos d'Amour" - made Stewart Copeland's peculiar drumming style famous around the world, showcasing the accents and the original patterns that helped so much to shape the band musical identity.
The transcription of Roxanne drums part in the drum sheet contains some rhythmic figures that was used by Stewart Copeland in many other Police songs, and that made his sound recognizable.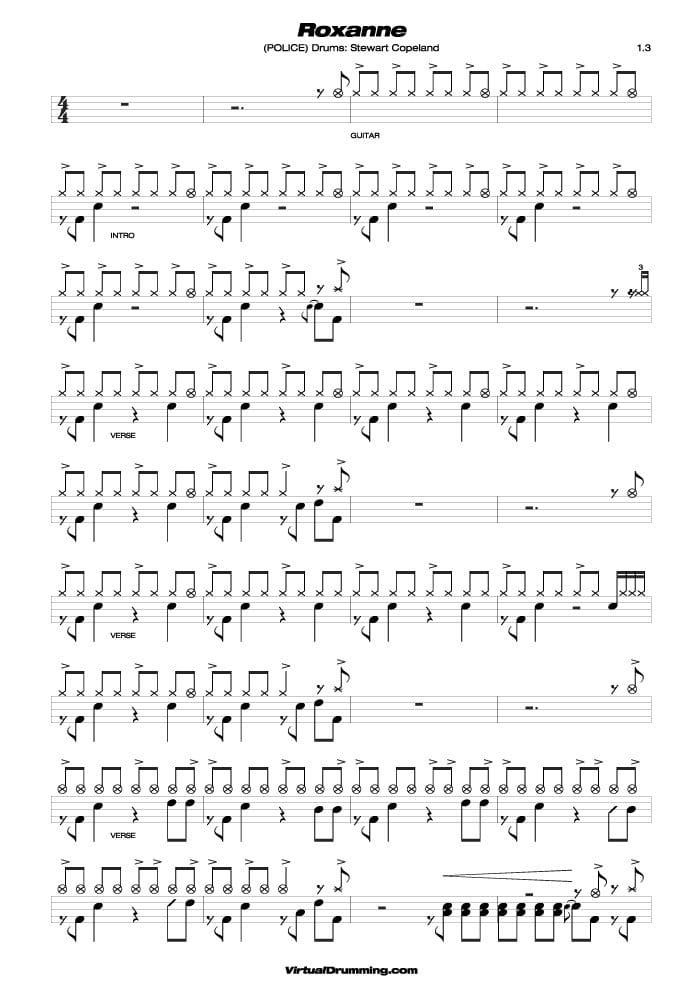 Download

Drum sheet music Stewart Copeland Roxanne File ZIP


Learn to read the drum sheet music
Drum set elements The graphic symbols of drum set elements in drum sheet music.
Notes and Rests Notes and rests value in drum sheet music.
Tie and Dot Tie and dot in drum sheet music.