Drum solo transcriptions, Dave Weckl
Introduction to the video lesson: Dave Weckl drum solo
The drum sheet music of this lesson contains the transcription of Tower of Inspiration, from Dave Weckl's "Master Plan".
One of the drummers came to fame in the 80's, Dave Weckl has an extraordinary technique and a beautiful musical sense, a unique style that got him into the Gotha of the greatest drummers. Born is St. Louis (USA) in 1960, he completed his musical studies at a very early age, and was still very young when he began his professional career. In 1985 he started his nine-album collaboration with Chick Corea, the most important partnership in his career. During this period Dave Weckl worked both on acoustic and electronic sounds. Dave Weckl has since played with George Benson, Mike Stern, Simon and Garfunkel, Diana Ross, Robert Plant and many others, and besides his many experiences as a sideman, he has recorded with his own band since 1990. In the drum sheet of this lesson you'll find the transcription of Tower of Inspiration, from the first album "Master Plan" recorded in 1990 by Dave Weckl.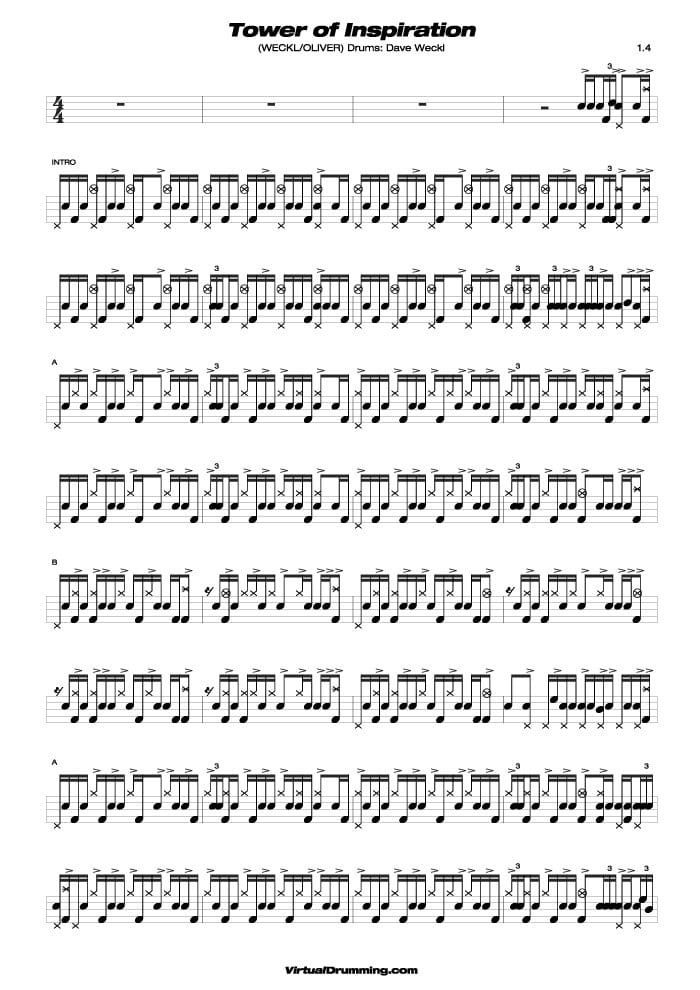 Download

Drum sheet music Dave Weckl drum solo File ZIP


Learn to read the drum sheet music
Drum set elements The graphic symbols of drum set elements in drum sheet music.
Notes and Rests Notes and rests value in drum sheet music.
Tie and Dot Tie and dot in drum sheet music.