Jazz drum solo, Elvin Jones transcription
Introduction to the video lesson: Elvin Jones drum solo
The drum sheet of this lesson dedicated to Elvin Jones contains a drum solo transcription from the album Autumn Leaves
Elvin Jones was one of the greatest drummers in jazz history. Born in 1927 from a large family in Pontiac, Michigan, he became a professional player in the 1940's. In his long career Elvin Jones has played, in his unmistikable style, with many of the most famous soloists of all times, from Charlie Parker to Miles Davis, Charles Mingus, Sonny Rollins, Wayne Shorter, Freddie Hubbard and many others. His most well-known involvement is with John Coltrane's Quintet, from 1960 to 1966.
After the Coltrane experience, Elvin Jones played with the Duke Ellington's Orchestra, and then he formed his own band, Elvin Jones' Jazz Machine.
In the drum sheet you'll find his solo taken from Bye Bye Blackbird, from the album "Autumn Leaves" recorded in 2002 by The Great Jazz Trio.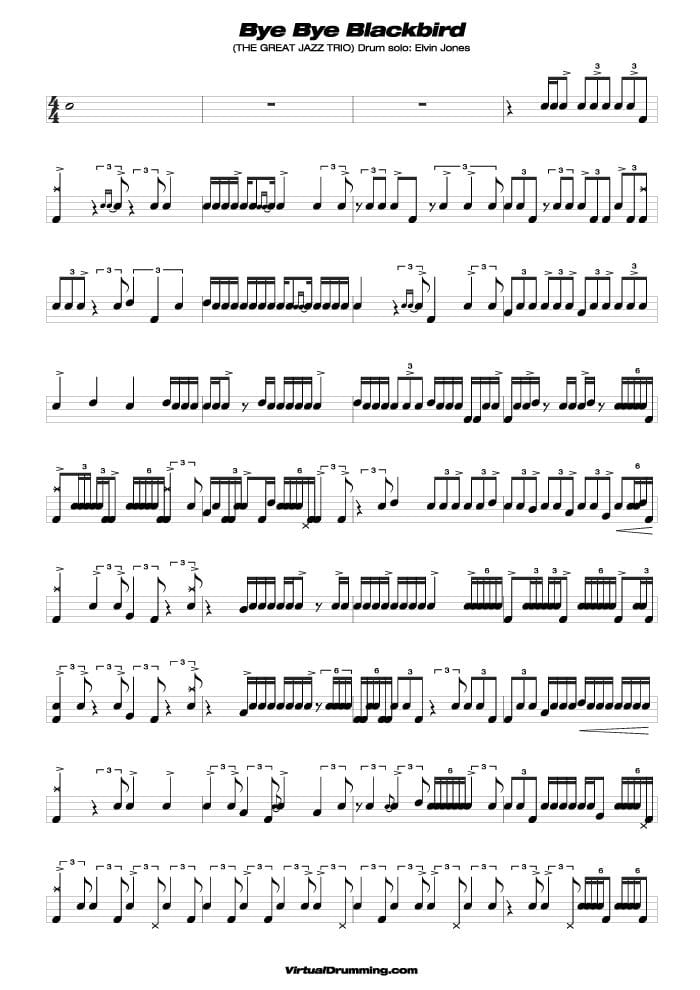 Download

Drum sheet music Elvin Jones drum solo File ZIP


Learn to read the drum sheet music
Drum set elements The graphic symbols of drum set elements in drum sheet music.
Notes and Rests Notes and rests value in drum sheet music.
Tie and Dot Tie and dot in drum sheet music.