The drumming of Tony Williams with Miles Davis
Introduction to the video lesson: Tony Williams drum solo
In the drum sheet of this lesson you'll find the transcription of Tony Williams' drum solo in Seven Steps to Heaven.
One of the greatest jazz drummers of all times, Tony Williams is mostly remembered for his work in Miles Davis' historical quintet, with Wayne Shorter on saxophones, Herbie Hancock on piano and Ron Carter on bass. Born in Chicago in 1945, he began his collaboration with Miles Davis at 17, influencing Davis' musical choices with his mighty and innovative jazz drums style.
After leaving Davis' band, Tony Williams formed his own quintet, named V.S.O.P., with Freddie Hubbard on trumpet. The transcription in the drum sheet is a classic in jazz drumming study: a Tony Williams' solo, taken from his first recording with Miles Davis, "Seven steps to heaven" (1963).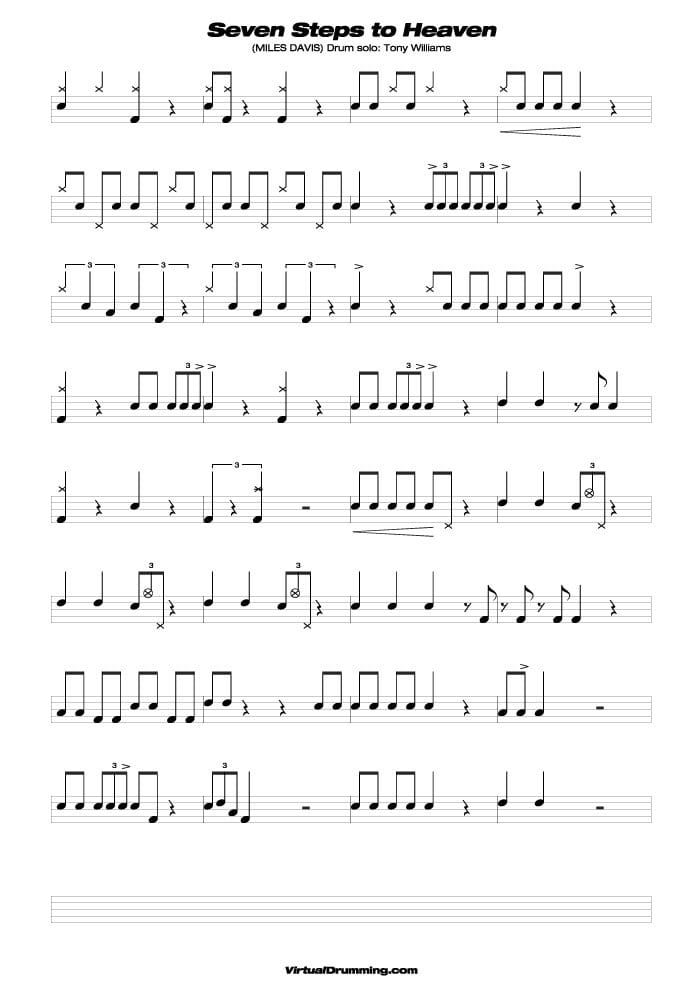 Download

Drum sheet music Tony Williams drum solo File ZIP


Learn to read the drum sheet music
Drum set elements The graphic symbols of drum set elements in drum sheet music.
Notes and Rests Notes and rests value in drum sheet music.
Tie and Dot Tie and dot in drum sheet music.