Drum solo transcriptions, Philly Joe Jones
Introduction to the video lesson: Philly Joe Jones drum solo
This lesson contains the transcription of Philly Joe Jones' drum breaks from the song Ah Leu Cha by Miles Davis quintet.
American drummer Philly Joe Jones is rated as one of the great jazz masters. His style has especially characterized the hard-bop period in the 50's. Born in Philadelphia in 1923, he became known as Philly Joe Jones for not being confused with Jo Jones, Count Basie Orchestra's drummer at that time. From 1950 to 1958 he was a member of Miles Davis' quintet, one of the most important groups in jazz history. Philly Joe Jones has also played with Bill Evans and was a founding member of band Dameronia in 1981.
The transcription in the drum sheet, taken from Miles Davis' album "Round About Midnight" (1955), is the drums chart of the intro and the finale of Ah-Leu-Cha, with the various Philly Joe Jones' drum breaks.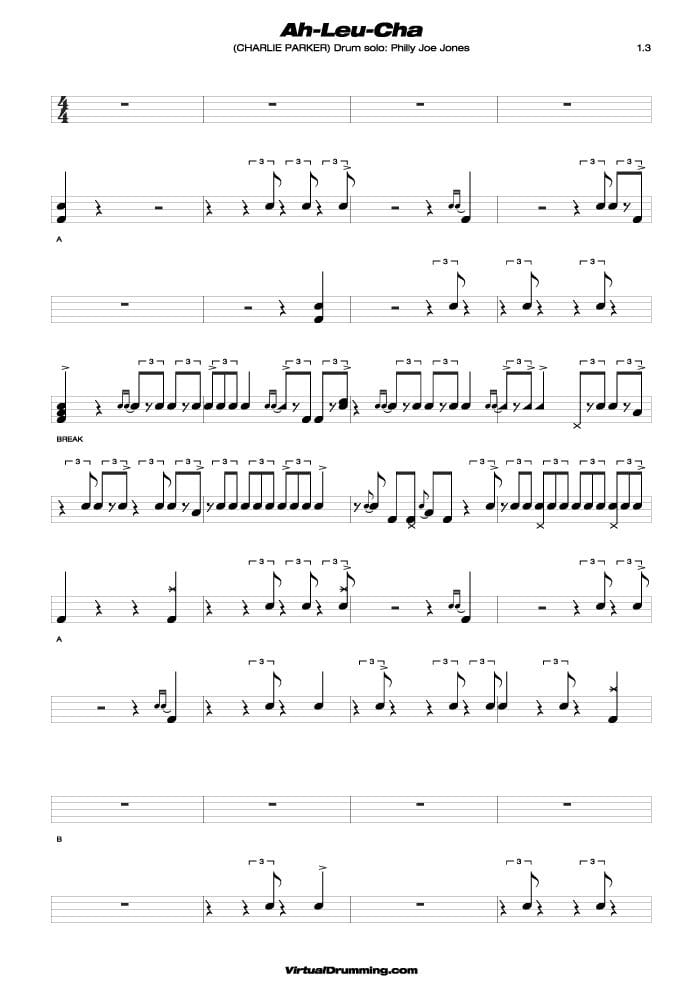 Download

Drum sheet music Philly Joe Jones drum solo File ZIP


Learn to read the drum sheet music
Drum set elements The graphic symbols of drum set elements in drum sheet music.
Notes and Rests Notes and rests value in drum sheet music.
Tie and Dot Tie and dot in drum sheet music.