Drum beats and rhythms of Afro-Cuban music
Introduction to the video lesson: Afro-Cuban drum beats
The drum music sheet of this lesson shows some Afro Cuban beats particularly difficult for hands and feet independence.
The basis of Afro Cuban rhythms is always a combination of various percussion sets (congas, timbales, bongo) that, together with electric or acoustic bass, set the typical Salsa sound. In the drum sheet of this lesson we present some drums-translated Afro Cuban rhythms: Cascara, Songo, Guaguanco, Mozambique and Cha Cha.
Bass drum strokes follow the bass pattern, the "Tumbao", which is rhythmically similar in many Afro Cuban and Latin rhythms.
The reference rhythmic figure for drums and all the instruments is called Clave (key). Son Clave is a two bar pattern in cutted time, that we find in many Afro Cuban beats. These two bars can be order reversed forming Son Clave 3-2 or Son Clave 2-3.
Rumba Clave differs from Son Clave in just one note position. Also Rumba Clave is a two bar pattern in cutted time that can be order reversed, forming Rumba Clave 3-2 or Rumba Clave 2-3.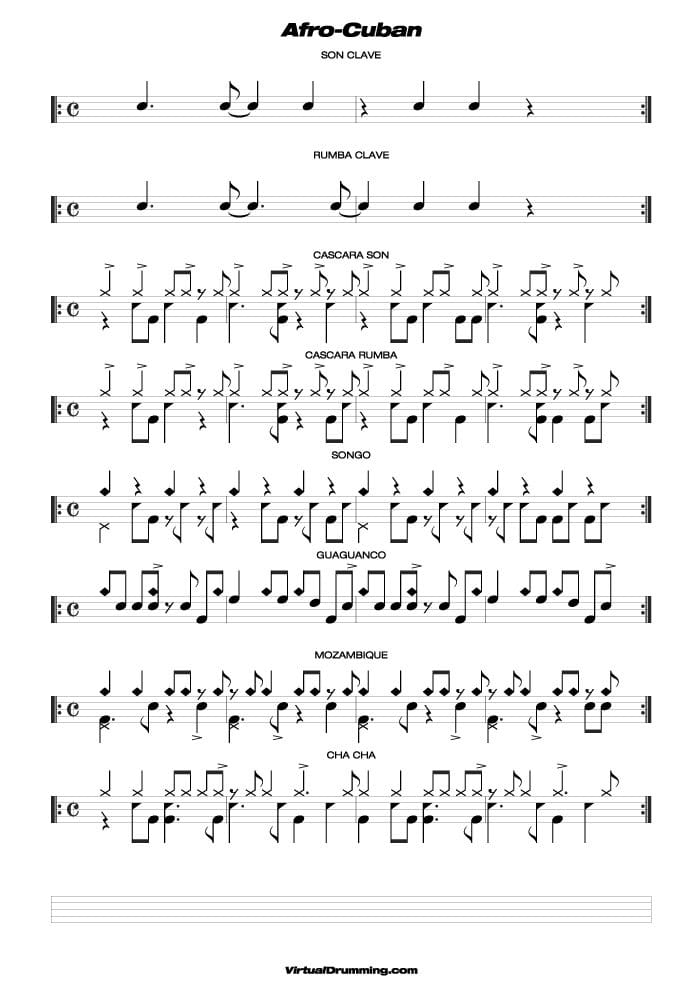 Download

Drum sheet music Afro-Cuban drum beats File ZIP


Learn to read the drum sheet music
Drum set elements The graphic symbols of drum set elements in drum sheet music.
Notes and Rests Notes and rests value in drum sheet music.
Tie and Dot Tie and dot in drum sheet music.