Latin rhythms, a must for every drummer
Introduction to the video drum lesson: Latin drum beats
Learn to play basic Latin drum beats: Rhumba, Samba, Tango, Beguine, Calypso, Mambo, Cha Cha Cha, Merengue and Bossanova
Latin rhythms offer much space to drummers for a personal interpretation. In this lesson about Latin drumming you'll see the charts of the original patterns in two 2/2 or 4/4 measures; you can add to these basic Latin drum beats all the variations that in the various Latin American countries add different accents and nuances. Rhumba is especially interesting: it's considered as an universal rhythm. You can find its principal accents in the popular rhythms from all over the world and in the arrangements of any modern musical style.
Rhumba drum beat is played at a fast tempo, the same pattern with a medium tempo is called Guaracha, and with a slow tempo is called Bolero.
You should try to apply all the rhythms in the drum sheet also to the other drum set elements.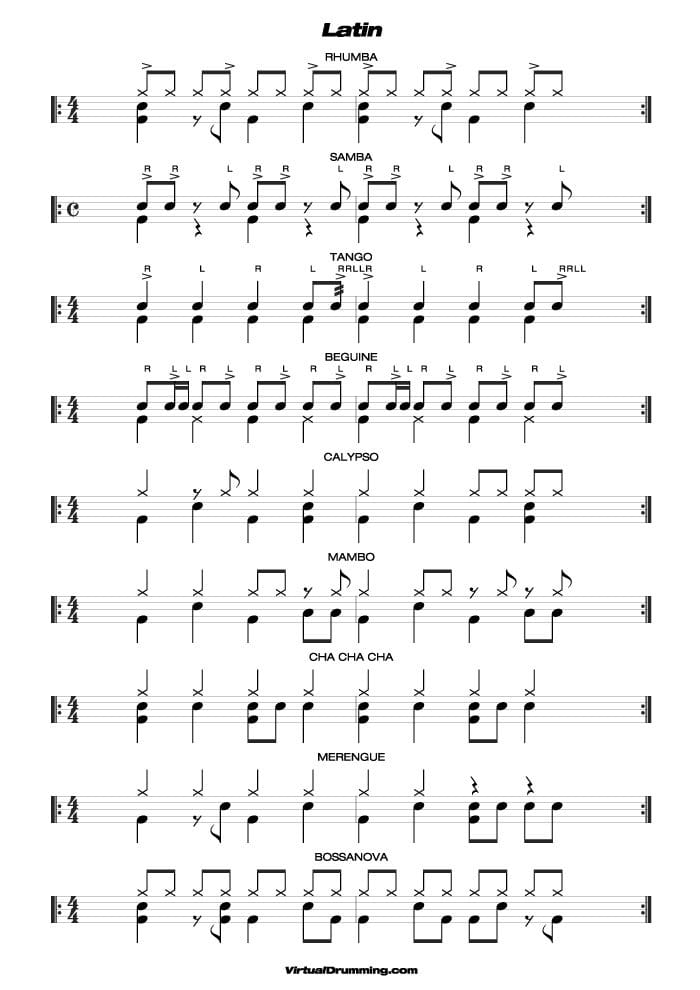 Download

Drum sheet music Latin drum beats File ZIP


Learn to read the drum sheet music
Drum set elements The graphic symbols of drum set elements in drum sheet music.
Notes and Rests Notes and rests value in drum sheet music.
Tie and Dot Tie and dot in drum sheet music.