Playing grace notes on drums: the Drags
Introduction to the video drum lesson: Drags drum rudiments
This lesson about drum rudiments introduces the Drags: Single and Double, Ruff, Drag paradiddles, Ratatap, Ratamacue.
The Drag, just like the Flam, doesn't have a precise musical lenght value, and it's made by a hand double weak stroke very closely followed by a stronger stroke by the other hand.
In drum sheet music the Drags are represented by two small notes with a legato tie put just befor the principal note. As in Flams, for a correct execution, the stick that plays the principal stroke starts from a superior height than the stick that plays the double, weak strokes.

The Drag, when coupled with triplets, is named Ratamacue; for a better understanding of the Ratamacue, you should study it after the previous lesson about triplets.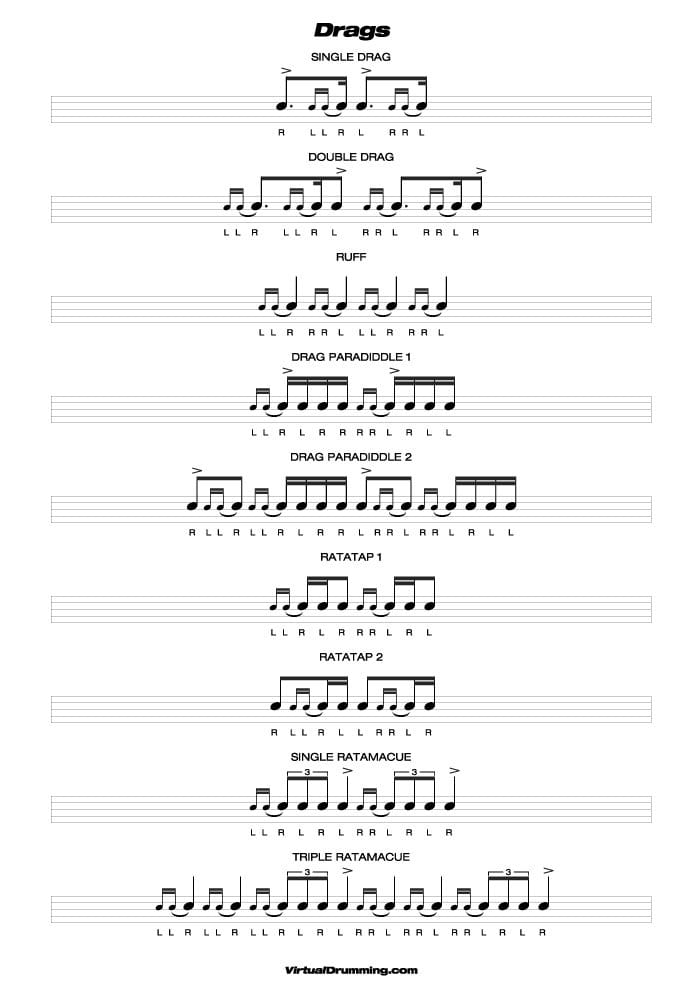 Download

Drum sheet music Drags File ZIP


Learn to read the drum sheet music
Drum set elements The graphic symbols of drum set elements in drum sheet music.
Notes and Rests Notes and rests value in drum sheet music.
Tie and Dot Tie and dot in drum sheet music.