First exercises on the snare drum about triplets
Introduction to the video drum lesson: Triplets and Quadruplets
The drum sheet of this lesson dedicated to drum rudiments contains a series of exercises about triplets and quadruplets.
In the natural binary subdivision of time the triplet is the first exception, three is the smallest odd number by whom we can divide a fraction of time. It's very important, for every musician, to learn these fundamental rhythmic division signatures and to know how to insert triplets -and other odd time divisions- in a binary rhythmic context, and it's also an essential step to understand the odd time signatures. Triplets are the first application of the concept of "polyrhythmics".

The exercises alternate eighths and sixteenths to triplets of eighths and sixteenths, to be played as single strokes. For a better understanding, you should play the groups of two, three and four strokes with a single hand, alternating the left and the right hand, and play the patterns in the drum sheet only with bass drum and hi-hat.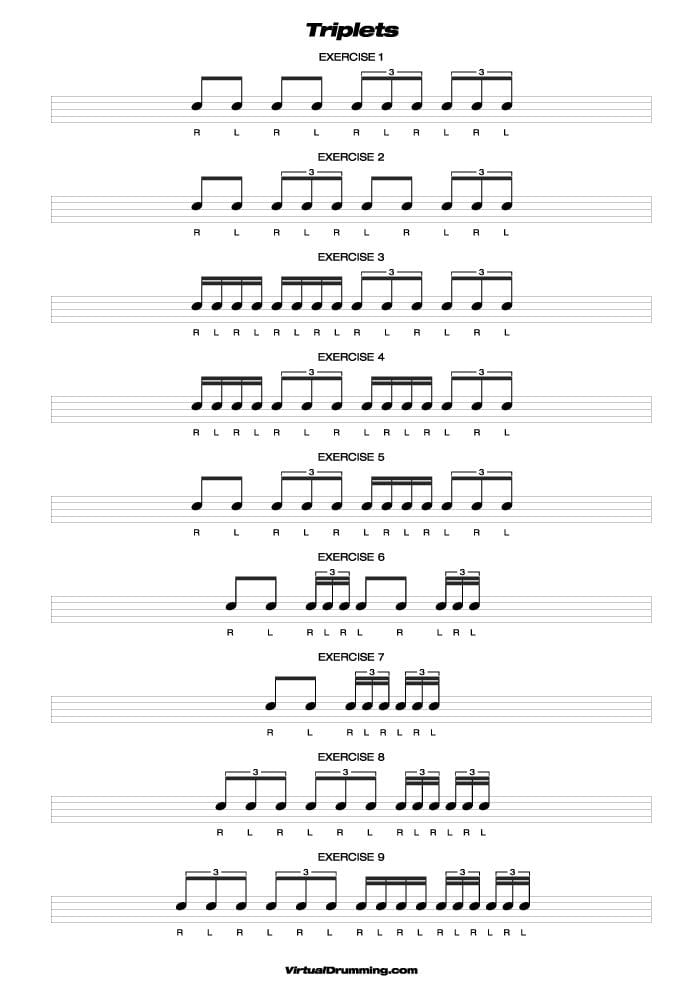 Download

Drum sheet music Triplets File ZIP


Learn to read the drum sheet music
Drum set elements The graphic symbols of drum set elements in drum sheet music.
Notes and Rests Notes and rests value in drum sheet music.
Tie and Dot Tie and dot in drum sheet music.