Jazz drumming lessons - Straight time swing
Introduction to the Jazz drumming lesson: Straight time 1
The sheet of this lesson about essential drum rudiments in Jazz drumming, contains exercises with classic swing playing.
This series of lessons deals with the various combinations of strokes on the traditional Jazz pattern called Straight time: a 4/4 measure with a steady right hand swing on the ride cymbal, and every bar second and fourth fourth played by the hi-hat.
The drum sheet splits the staff in two parts: the upper one shows the ride and hi-hat configuration, the lower one shows a combination of snare and bass drum strokes. The first exercise presents just the basic Straight time Jazz pattern, the following ones add various left hand combinations of single and double strokes, essential drum rudiments.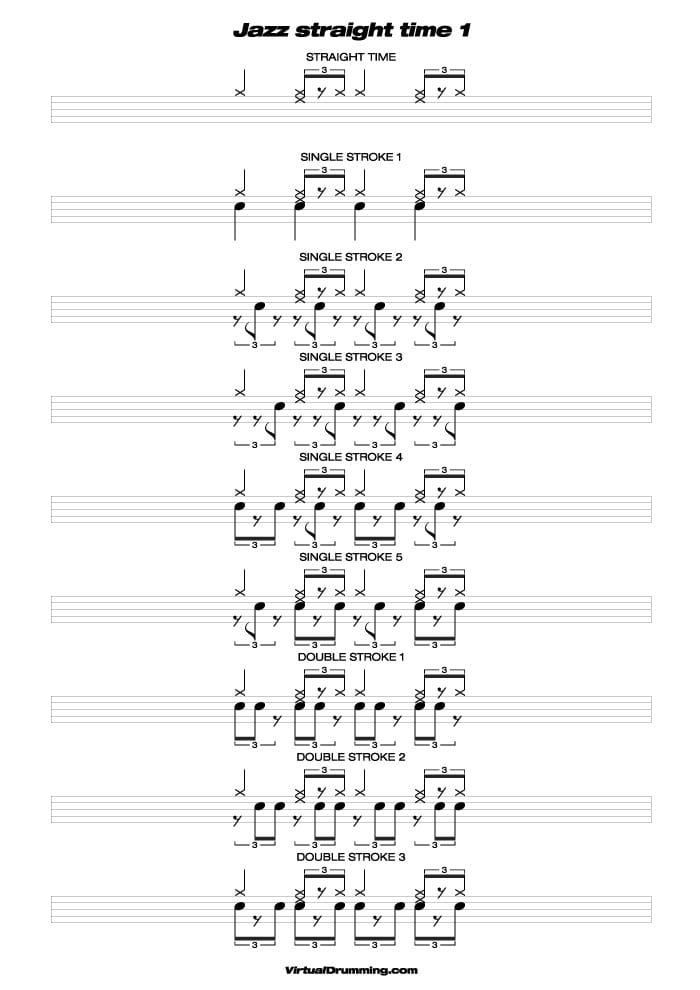 Download

Drum sheet music Jazz Straight time 1 File ZIP


Learn to read the drum sheet music
Drum set elements The graphic symbols of drum set elements in drum sheet music.
Notes and Rests Notes and rests value in drum sheet music.
Tie and Dot Tie and dot in drum sheet music.