Phil Collins from Progressive Rock band Genesis
Play pc drums, learn by the best drummers: Phil Collins
The sheet music of this lesson contains some drums grooves of Phil Collins, drummer in Progressive Rock band Genesis.
A singer, a composer, a multiinstrumentalist and even an actor, Phil Collins is also well known as the drummer in Genesis, the 70's English band that featured Peter Gabriel on vocals before his solo career. After Gabriel's departure in 1975 Phil Collins became the group singer, leaving in the live performances the main drummer's role to Chester Thompson and sometimes to Bill Bruford. Phil Collins has also played drums with English jazz rock band Brand X. As a drummer, Phil Collins has always had the ability to find new drums sounds and very personal rhythmic arrangements, playing unmistakable drums parts on many pop hits.
In the drum sheet of this lesson you'll find some grooves taken from some famous songs which was originally played by Phil Collins. Phil Collins & Genesis: The Lamb Lies Down On Broadway, Follow You, Follow Me, Down and Out,Invisible Touch, Jesus He Knows Me. Phil Collins songs: It Don't Matter to Me, Sussudio. Philip Bailey & Phil Collins: Easy Lover.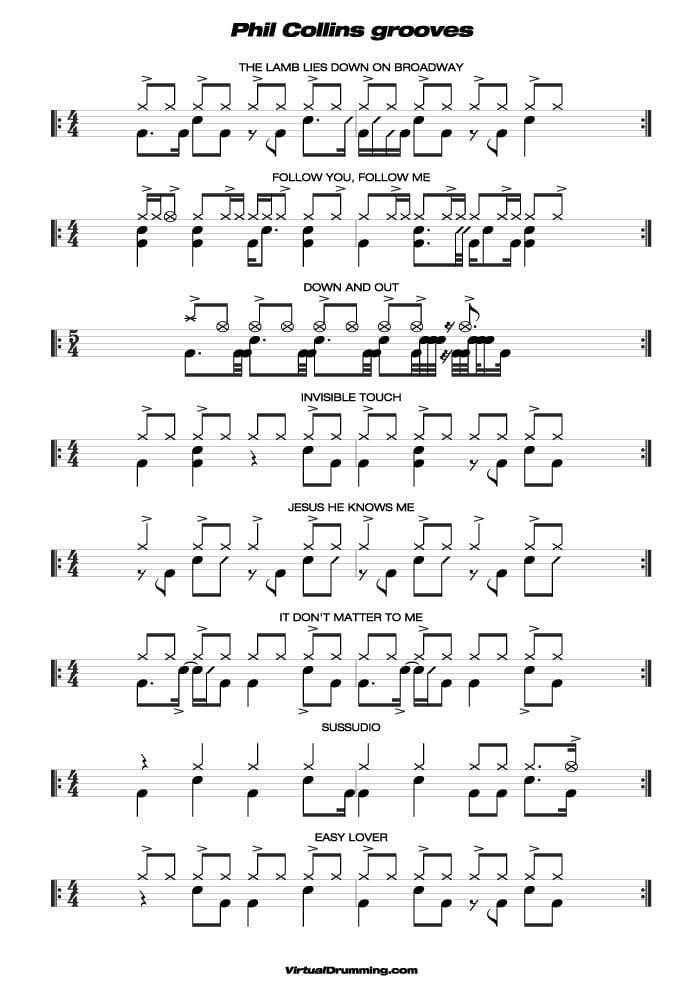 Download

Drum sheet music Phil Collins grooves File ZIP


Learn to read the drum sheet music
Drum set elements The graphic symbols of drum set elements in drum sheet music.
Notes and Rests Notes and rests value in drum sheet music.
Tie and Dot Tie and dot in drum sheet music.