Paradiddles, the most useful for drums playing
Introduction to the video drum lesson: Paradiddles rudiments
The drum sheet contains the series of Paradiddles, the four basic Paradiddles, double, triple, and Paradiddle diddle.
The study of Paradiddles is, among other basic exercises for the drums, especially important to learn how to alternate single and double strokes with accented strokes, with both hands. The symmetrical structure of every Paradiddle helps a better balanced hands and wrists development. You should put great care on the accents and their different positions on the drum sheet.

Reversing the hands role and adding intermediate rests and abbelishment strokes, the combination of the various paradiddles offers endless possibilities of performance and personal expansion of the exercises. We'll find out that many drum rhythms that we know are written by working out the basic Paradiddles.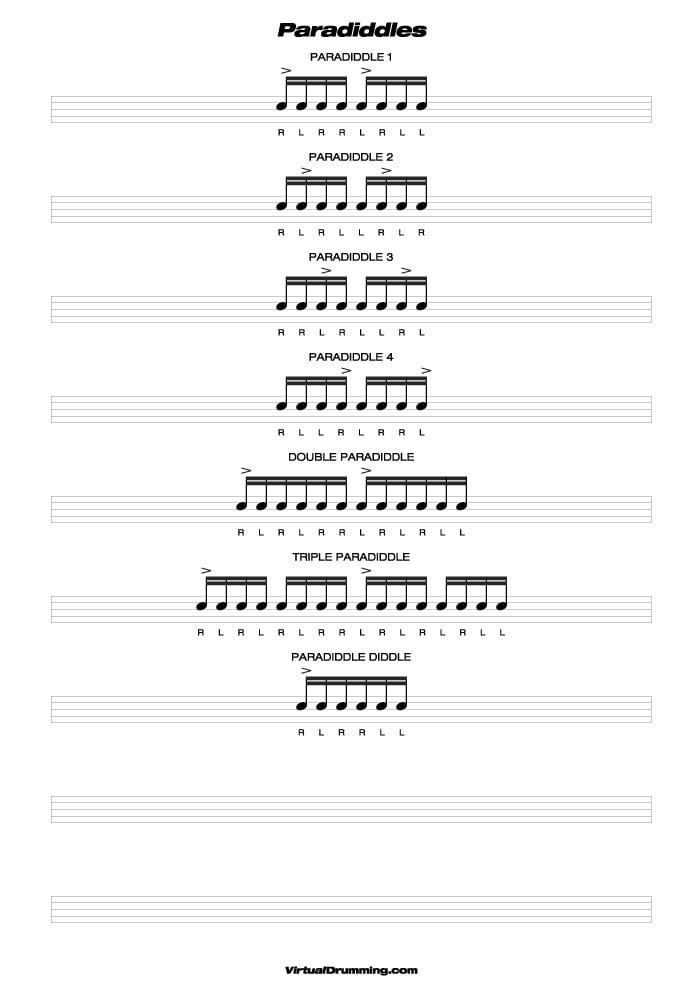 Download

Drum sheet music Paradiddles File ZIP


Learn to read the drum sheet music
Drum set elements The graphic symbols of drum set elements in drum sheet music.
Notes and Rests Notes and rests value in drum sheet music.
Tie and Dot Tie and dot in drum sheet music.